Virtual matchmaking event: «Bringing VALUE to AGROBIOMASS»
Date: February 10th – 11th, 2021
Time: 10:00-16:00 CET (check your timezone here https://www.worldtimebuddy.com/).
Participation in the event is free of charge. For more information and registration, please go to https://bringing-value-to-agrobiomass.b2match.io/.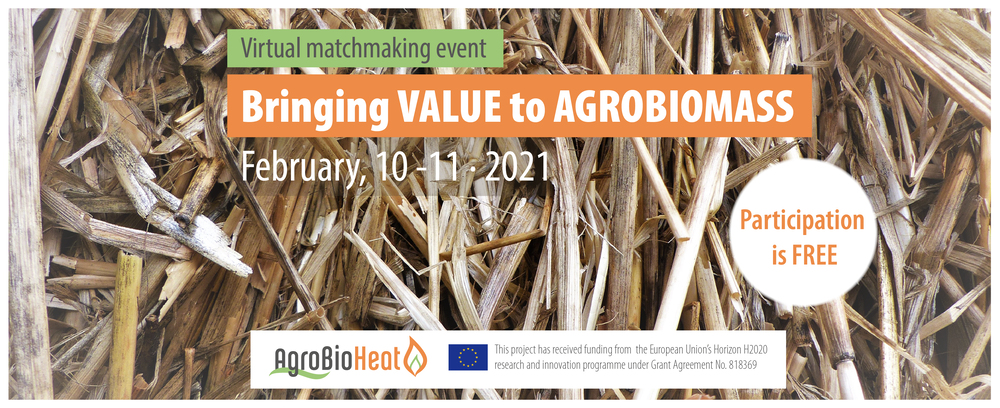 The AgroBioHeat project is organizing a free virtual matchmaking event – Bringing Value to Agrobiomass – on February 10th – 11th, 2021. The aim is to facilitate cooperation on sustainable utilisation of biomass from agriculture and side streams from food production.
Topics addressed
Renewable energy production;
Biorefining;
Agrobiomass production;
Logistics and handling.
Why participate?
In need of a heating solution? Find out if agrobiomass heating is the right solution for you.
Do you have an agrobiomass by-product that can create value for you with the right technology or cooperation partners?
As a technology provider, you can promote your technology, services or competencies to potential customers or partners.
The top 5 objectives for a successful participation
Meet partners and customers;
Find the technological solutions you need;
Prepare purchases or projects;
Meet new suppliers;
Get information about the latest's trends.
All over Europe, there is agricultural production of various crops for food and feed and processing of these crops. This results in a large volume of residual biomass streams that can be utilised for various purposes; however, their current mobilization rates remain generally quite low. These resources have the potential to contribute to the transition from a fossil-based economy to a green economy. Agriculture can also provide additional biomass resources through improved land management practices, e.g. by cultivating new crops on marginal lands.
Whatever their origin, these agrobiomass resources can be used for production of energy, chemicals, new food products, pharma, materials, and more.
The challenge to realise this potential is in some cases a technological one, that requires innovation and development of new processes and equipment.In many cases, e.g. the use of agrobiomass for heat production, there are already available mature technologies in the market that are ready to go, but their market uptake is hindered by absent value chains and lack of knowledge about available technologies.
The Bringing Value to Agrobiomass event addresses this by providing an online matchmaking platform for participants to display their technology, express their technological or material needs, or bring attention to their excess biomass resources in order to find cooperation partners to help utilize them. The ultimate goal is to connect relevant stakeholders to facilitate new collaboration on improved use of all these resources.
---
The event is organized by the AgroBioHeat project, with support from a number of other, mainly EU-funded projects that focus on various aspects of a transition to a greener, bio-based economy. The supporting projects are: