European Pellet Conference 2021, 22 June 2021 / Wels, Austria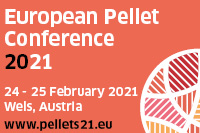 Date: 22 June 2021
Venue: Wels, Austria
We announce the largest annual pellet event worldwide! Each year, the European Pellet Conference attracts over 450 experts from more than 50 countries.
This special edition of annual conference is planned to hold as a hybrid event: you can join us in Wels/Austria or connect digitally from anywhere in the world.
Europe has the ambitious goal of becoming the first climate-neutral continent by 2050. The Green Deal and the EU Climate Law are the first concrete steps. Bioenergy is a key pillar of the European and global energy transition and can also contribute to economic growth.
The conference will show how we can make a green recovery happen in practice and how the pellet sector can profit from this deep transformation.
NEW in 2021
Update Green Deal
Innovation Factory
Bioenergy & Recovery
Pellet Pitches
Meet2Talk
More information & Registration: www.pellets21.eu.
The deadline for the Call for Papers & Speakers: 12 October 2020.
You can get acquainted with the program of the event by following the link.
You can view the program of last year's European Pellet Conference 2020 by following the link.
---
The European Pellet Conference will take place within the World Sustainable Energy Days 2021 (WSED 2021).
Bioenergy for a green recovery!