SAF: Germany is a leader in the European biomethane market
In 2020, the country reached production volumes of 9,847 GWh. Find out in this article the reasons for the popularity of biomethane in Germany and the political benefits of its use. More information is already available on the SAF (Sustainable Agribusiness Forum).
On November 10, 2021, Dirk Bonse, Head of Division "Renewable Gases" of the German Biogas Association (Fachverband BIOGAS), shared his experience. He presented an overview of the biogas and biomethane sector in Germany during an online seminar of UABIO and the BIOFIT project "Biomethane: transfer of technologies, policies and best practices from European experience".
The experience of Germany is relevant for Ukraine
Germany's experience is very important for the development of the biomethane sector in Ukraine, especially given the availability of significant biomass resources of agricultural origin and a developed gas transmission network. To form a general idea of the biogas and biomethane sector in Germany, we publish several facts.
Biomethane is biogas upgraded to the quality of natural gas. And for many years it has been successfully produced from various types of biomass and used as a fuel for heat, electricity, and transport, as well as raw materials for the chemical industry. At the same time, it is possible to use existing gas transmission and gas distribution networks for biomethane transportation.
Another promising renewable gas is hydrogen. However, the widespread introduction of green hydrogen now requires a number of technical changes, including the construction of the modern hydrogen infrastructure.
Biomethane is obtained after purification of biogas and bringing the methane content to 95-98%. At the same time, there is a drying of biogas, removal of CO2, desulfurization, odorization.
Technologies of biogas purification:
membrane technologies;
dry cleaning;
purification with pressurized water;
physical cleansing;
adsorption at variable pressure;
cryogenic technologies.
Membrane technologies have become the most popular among them in recent years.
It should be noted that biomethane can be converted to hydrogen and CO2 by steam reforming.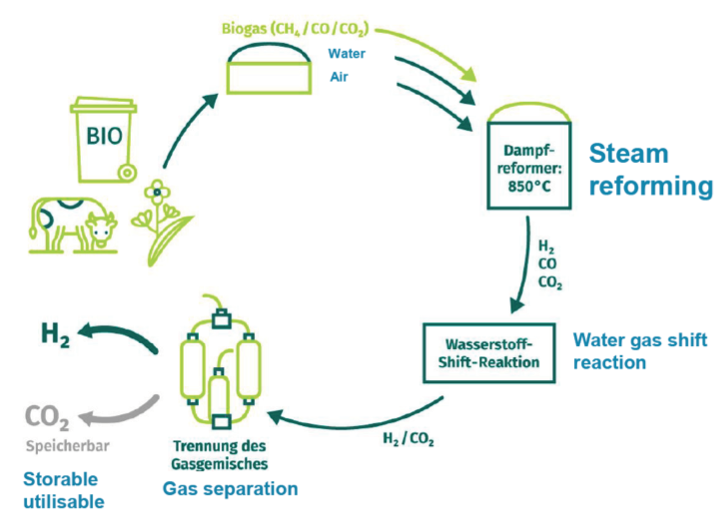 On the other hand, hydrogen and CO2 can form methane by synthetic methanation. This creates ample opportunities to combine the production and use of biomethane and green hydrogen.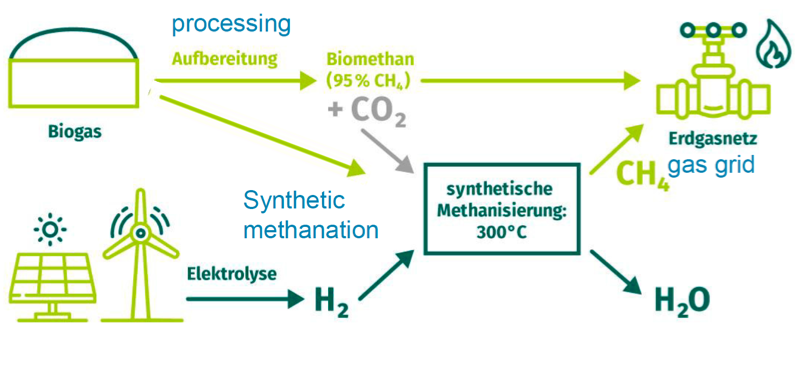 In Germany, biomethane is mainly used for electricity generation, but recently its use as a fuel has been growing.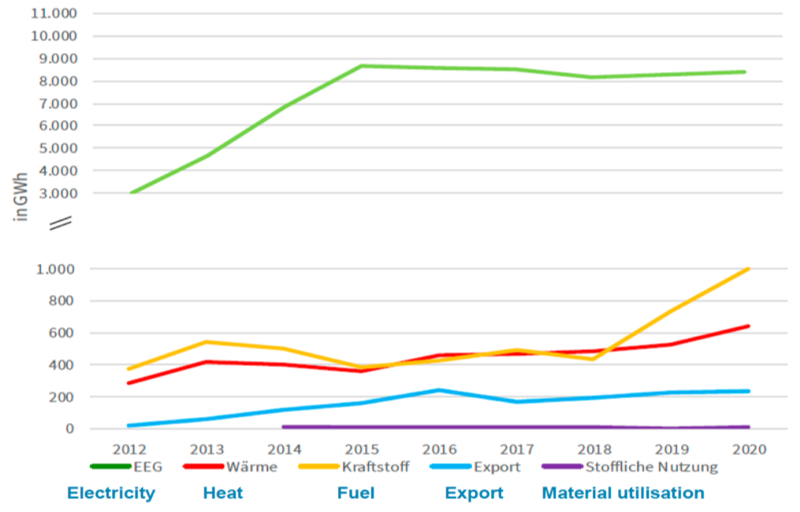 Why is biomethane popular in Germany?
Provides the highest reduction in CO2 emissions among all types of biofuels;
biomethane from residues and wastes, including manure, is a cost-effective way to reduce CO2 emissions in the transport sector;
vehicles on natural gas and biomethane have low emissions of NOX and particulate matter;
only 25% of manure produced in Germany is used in biogas plants;
available natural gas network infrastructure;
tax benefits and exemptions from biomethane fees;
high-density energy sources that can be stored, distributed, and incinerated will remain needed in many sectors (eg ships, planes, buses, trucks, etc.).
Political aspect
According to the RED II Directive, the indicators of greenhouse gas emissions for:
biomethane from manure is -100 g CO2eq / MJ,
biomethane from biogenic waste is 14 g CO2eq / MJ,
biomethane from cosubstrate (80% manure and 20% silage) is -12 g CO2eq / MJ.
From 2022, fuel distributors must provide a quota for the use of improved biofuels and biogas produced from raw materials listed in Part A of Annex IX of the RED II Directive. This list includes wastes, suhc as straw, husks, and manure. Failure to comply with quotas will result in a fine of € 470 / t CO2 (up to € 600 / t CO2). Biomethane as a fuel can be used to meet quotas, creating opportunities for additional income from its sale.
Biomethane for transport
The use of biomethane as a transport fuel in the compressed biogas form in cars and vans is becoming increasingly popular, but after 2035 there may be significant market constraints due to the ban on internal combustion engines. Therefore, it is expected that in the future the transport fuel market will mainly use liquefied biomethane to transport heavy loads and sea or inland waterways.
The course of events
Further developments depend on policy decisions – changes to the RED II Directive and the Fit-for-55 package, which provide great opportunities for trade in greenhouse gas emission reduction certificates. It should be noted that additional capacity for biomethane production the national network may reach 40% by 2030.
Source: the article on the SAF platform "Biomethane market development in Germany: status and prospects": https://saf.org.ua/en/news/1473/. 
---
It will be recalled that UABIO is a partner of the SAF Ukraine (Sustainable Agribusiness Forum) that was created in 2017 on the initiative and support of the European Bank for Reconstruction and Development (EBRD).