SAF Ukraine: Public procurement of fuel wood for 2020-2023
The analysis was prepared by Yevhen Oliinyk, an expert of the Bioenergy Association of Ukraine, for the SAF Ukraine.
In total, more than 3,400 tender organizers successfully completed more than 7,600 tenders for 920,000 cubic meters of firewood. The market volume for 3 years was about 1 billion hryvnias.
The annual volume of public procurement of firewood is 280-320 thousand cubic meters. The largest volume of procurement is 25-33 thousand cubic meters per year in the Sumy and Khmelnytskyi regions. A 3.5-4.5 times increase in the volume of procurement was recorded in the Ternopil, Kherson, Zaporizhzhia and Donetsk regions.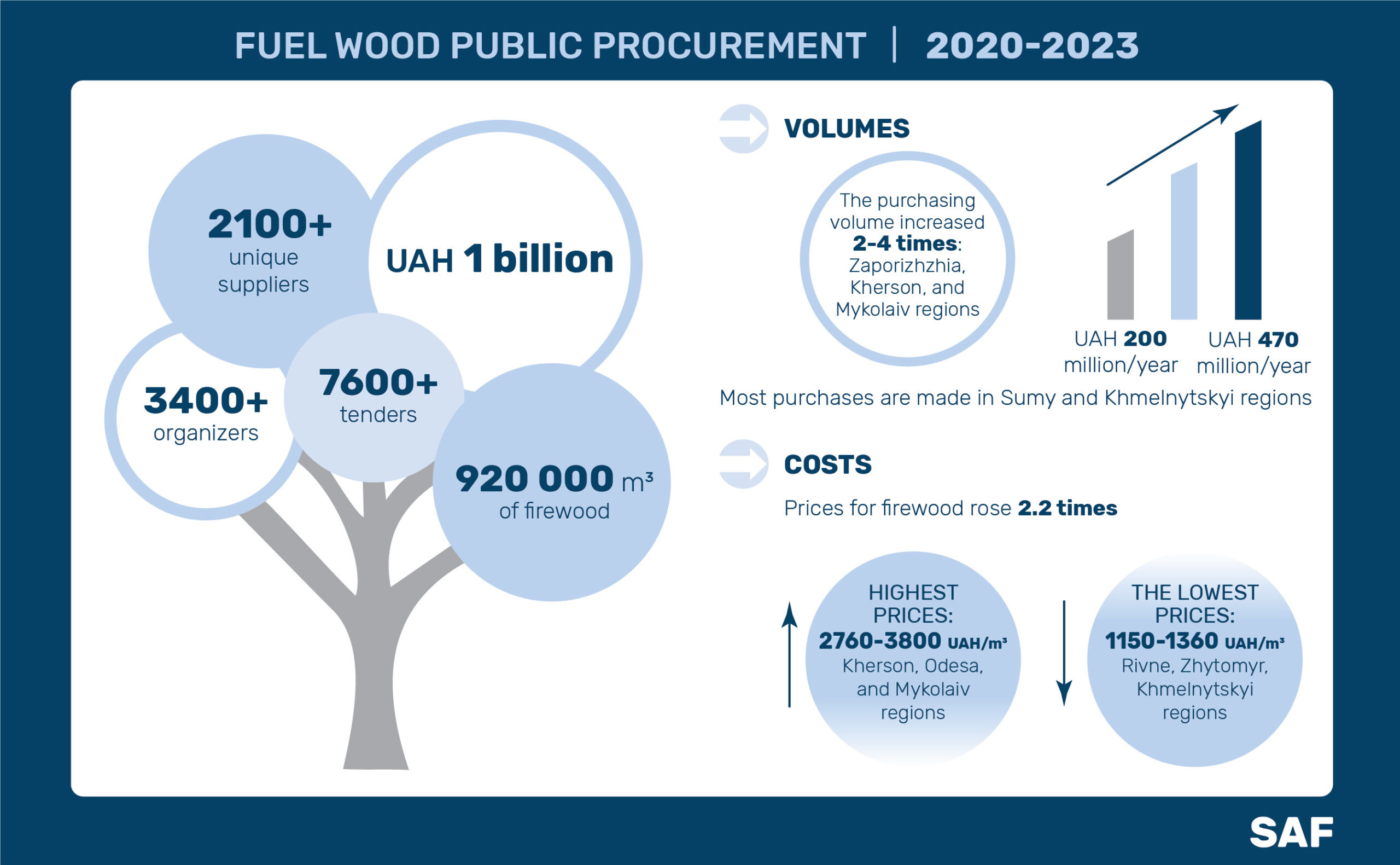 The total volume of procurement grows insignificantly. The volume of concluded contracts increased 2.2 times: from UAH 200 million/year to UAH 470 million/year. The average price of firewood has been steadily growing in recent years:
2020 – 850 UAH/m3,
2021 – UAH 1,030/m3 (+20%),
2022 – 1,570 UAH/m3 (+53%),
2023 – 1,830 UAH/m3 (+16%).
Thus, from 2020 to 2023, average prices for fuel wood increased by 2.2 times, and in some regions – by 2.5-3 times. The lowest prices in 2023 were recorded in Rivne, Zhytomyr and Khmelnytskyi regions – 1,150-1,360 UAH/m3. And the highest level of prices is common for the southern regions: Kherson, Odesa and Mykolaiv regions – 2,760-3,800 UAH/m3. The price of firewood mostly depends on the region, quality, season, procurement volume, and delivery distance.
In total, more than 210 unique suppliers became tender winners.
500 suppliers have state or shared ownership and supply about 40% of fuelwood volumes. More than 1,450 suppliers are individual entrepreneurs, which ensure the fulfillment of up to 60% of all contracts – about 150,000 m3/year of firewood, which is 40-55% of the total volume of public procurement.
Informative diagrams are available at the link (in Ukrainian).
---
We remind you that UABIO is a partner of the Sustainable agribusiness platform (SAF).