VERBA experience: Using rotational plantation strips of fast-growing willow and poplar cultivars to protect roads and railways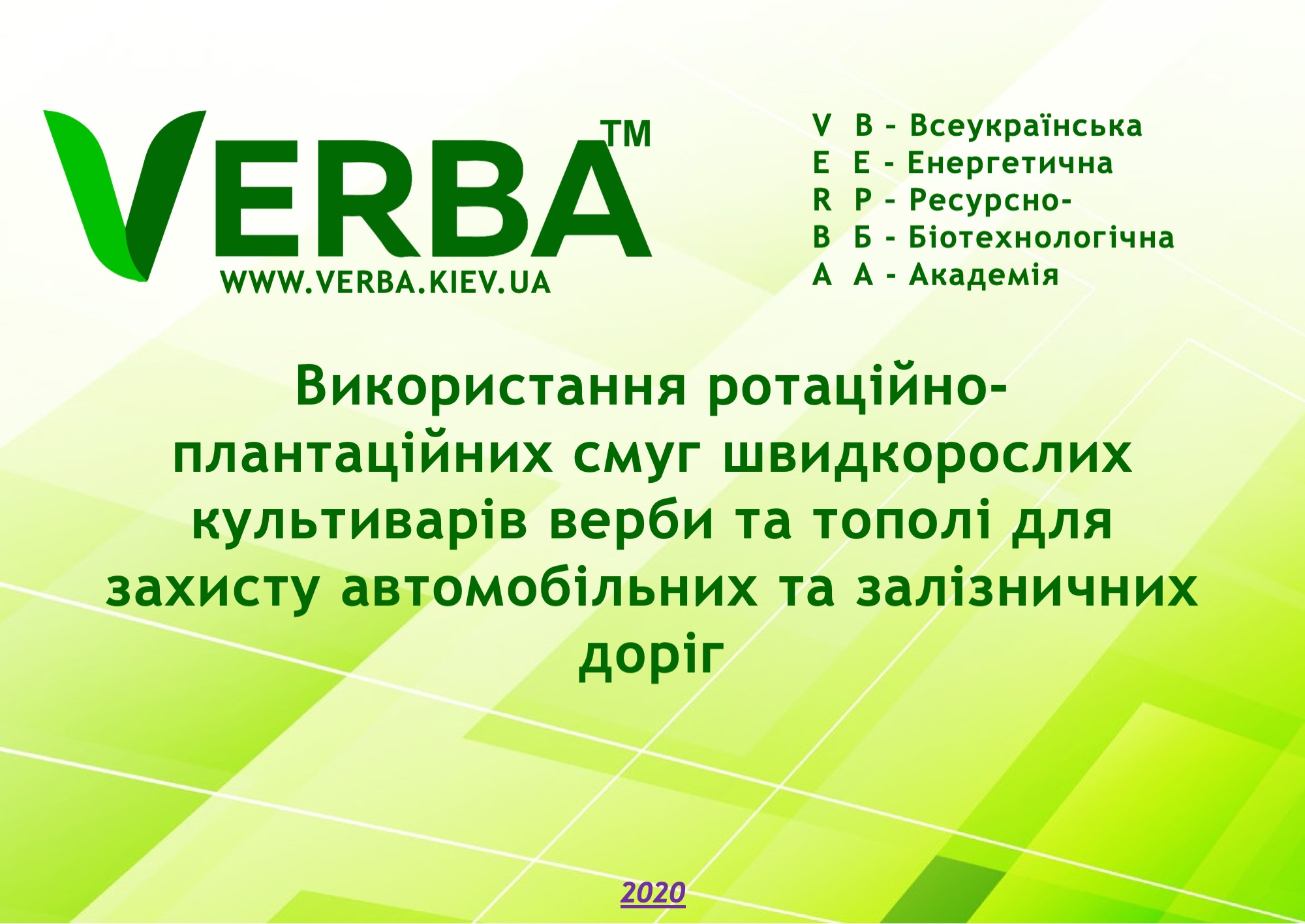 Today in Ukraine there are 52.0 thousand km of state roads and 117.6 thousand km of local roads (about 270 thousand hectares under protective strips), as well as 22.05 thousand kilometers of railways (third place in Europe).
Most of the protective strips are in an emergency condition, so they are cut. Also, large areas of such strips are destroyed by illegal logging.
A useful model for the use of rotational plantation strips of fast-growing willow and poplar cultivars for the protection of roads and railways was patented by the All-Ukrainian Energy Resource and Biotechnology Academy (VERBA). It is an economically and environmentally effective way to protect roads.
The company has explored the potential of the willow biomass market in Ukraine through the use of rotary plantation protection strips along highways and railways. The scheme of planting a 6-row rotary-plantation protective strip is presented, as well as the schedule of annual wood chips collection. Calculations of the potential reduction of CO2 emissions are given.
Only 10 km of roads lined on both sides with energy plants will be able to provide heat to a regular school with an area of 1200 m2 during the entire heating period!

VERBA
Advantages of using rotary plantation strips
Road protection

With the observance of science-based technology of planting (density) of willow plantations, snowdrifts of roads are reduced by 90% due to snow retention in plantations.

Noise isolation from roads.

Protection against gassiness and dust is provided by the stability of willow plantations.

Driver safety. Energy willow is a shrub plant with a trunk diameter not exceeding 5 cm. During an accident and a car collision with a trunk, the plant does not create significant resistance, that protecting the driver and the car from significant damage.
Economic effect

The use of biomass as a fuel will allow a regular school with an area of 1,200 m2 to save on heating about 350 thousand UAH annually.
Environmental friendliness

1 ha of energy willow plantation absorbs 200 tons of CO2 in 3 years.
Agricultural significance

Retention of snow (moisture) in the fields.
Reducing the number of pests. Willow bark contains salicylic acid, creating a natural barrier that prevents the spread of pests.
Protection of soils in fields from weathering and erosion.
Willow planting is a convenient place for birds to nest.
---
Find out more on the site of the All-Ukrainian Energy Resource and Biotechnology Academy (VERBA)