UABIO proposals for solving urgent problems in Ukrainian energy sector. Letter 483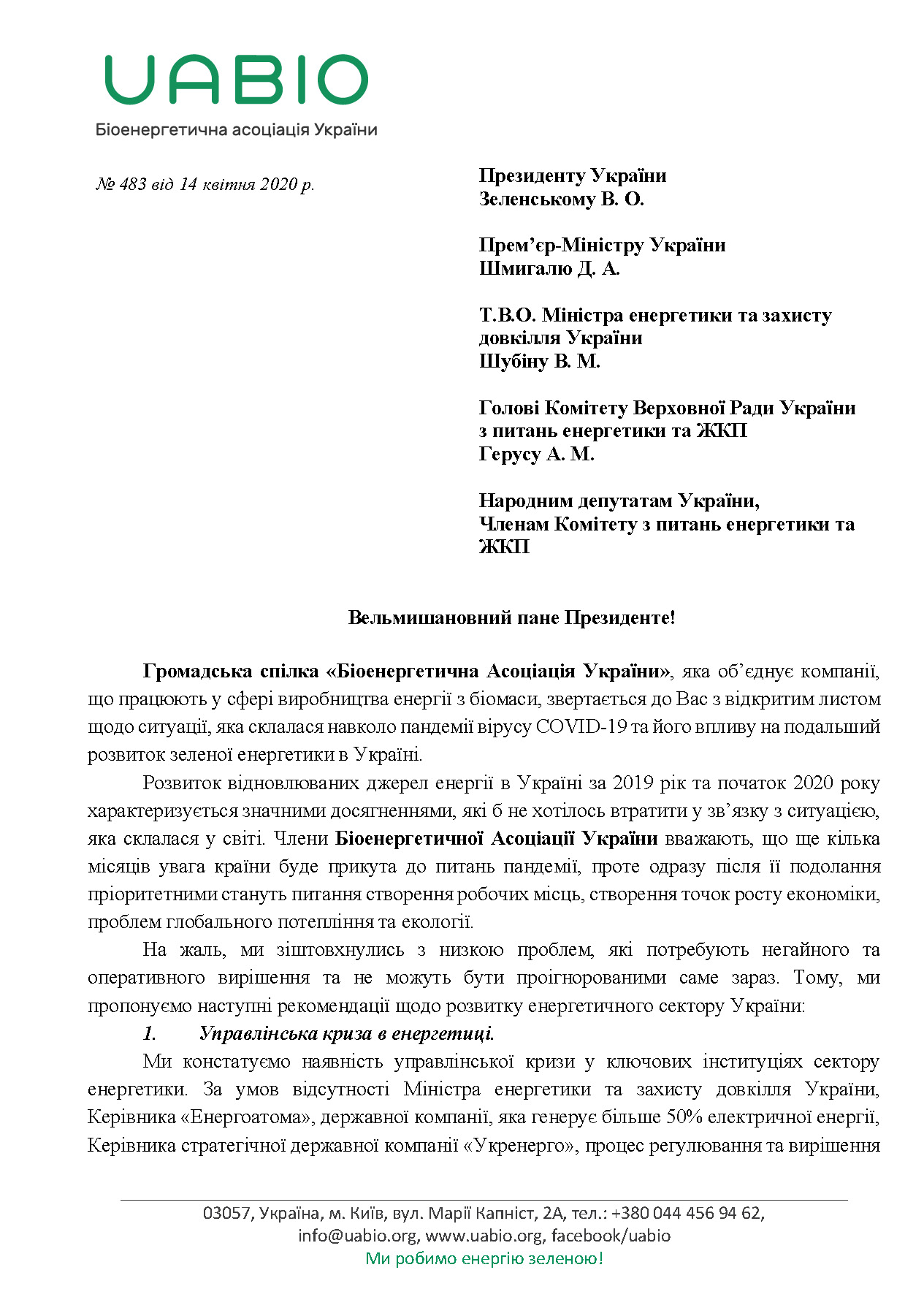 The pandemic situation will determine the agenda for a few more months, but we need to think now what to do next, given the obvious consequences for the economy.
The priority is to create jobs, economic growth, solve global warming and the environmental problems in general.
It is very important to get out of the crisis properly and be ready to respond to future challenges. And the UABIO team has a strategy focused on the development of RES.
With a collective letter on this issue and with proposals for concrete actions, the members of the Bioenergy Association addressed a collective letter to the President of Ukraine Volodymyr Zelensky, the Prime Minister Denys Shmyhal, the acting Minister of Energy and Environmental Protection Vitaliy Shubin, Chairman of the Verkhovna Rada Committee on Energy and Housing Andriy Gerus, as well as MPs and members of the Committee on Energy and Housing and Communal Services.
Full text of UABIO's letter No 483 with proposals for solving urgent problems in Ukrainian energy sector (in Ukrainian)
The letter outlines ways to solve the following problems of development of the energy sector of Ukraine:
Management crisis in energy.
Insufficient maneuverability in the power system of Ukraine.
An unusually large share of solar electricity generation in Ukraine.
Imbalance of the financial condition of the Guaranteed Buyer.
The problem of projects with prePPA.
The need to urgently launch auctions for the purchase of electricity from RES.
Falling prices for traditional energy resources (oil, natural gas).
UABIO is asking to take into account the above recommendations when developing bills governing the RES sector. UABIO experts are ready to join the working groups to develop relevant bills.

UABIO