Future of biomethane and green hydrogen: The Gas for Climate study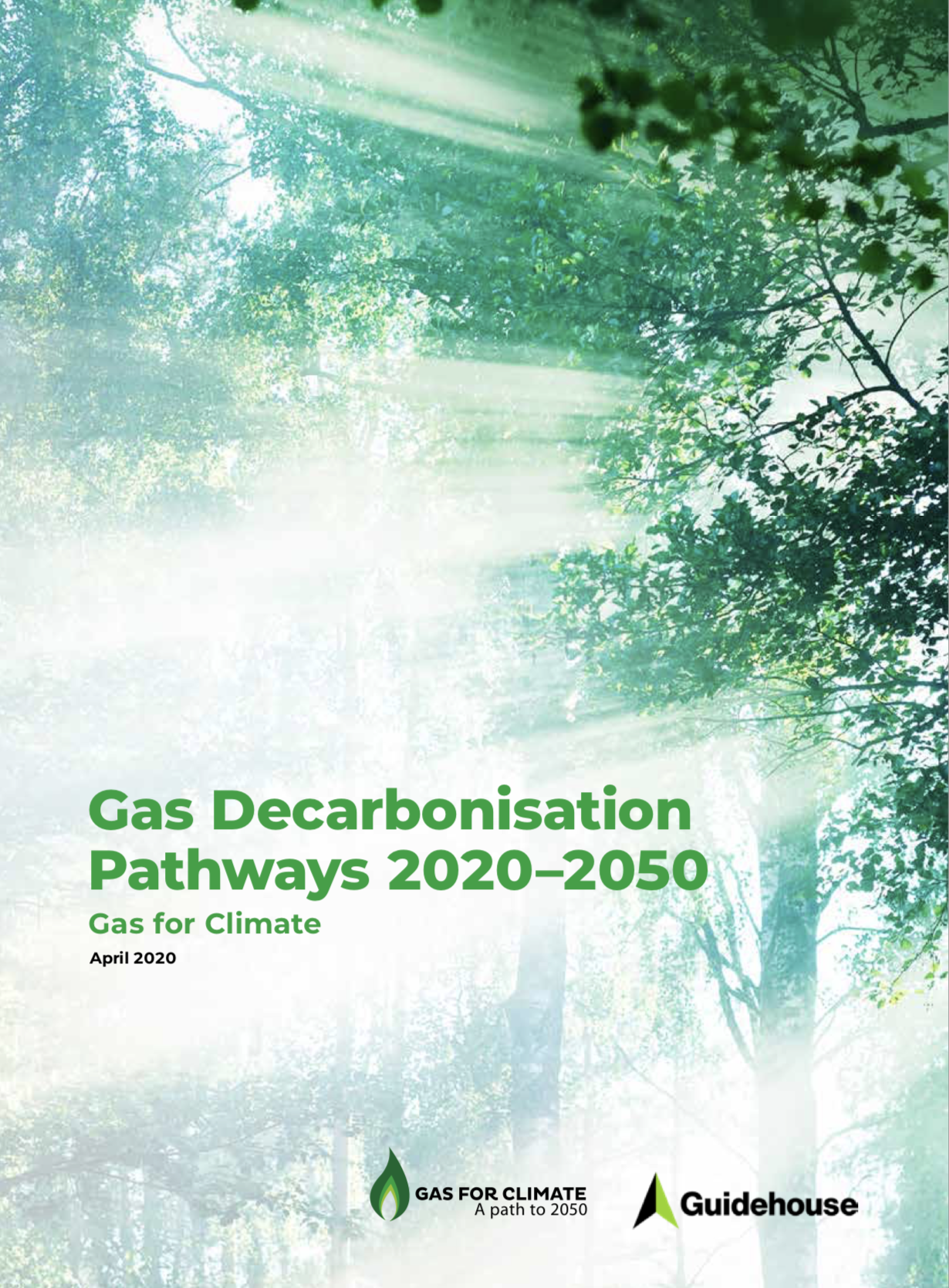 How do we transition from today's energy system to the 2050 net-zero emissions system? How it influences the economy, relevant sectors, and when it will happen?
We propose you to get acquainted with the progressive vision of gas energy system transition to a fully renewable energy system with a Europe's well-developed existing infrastructure. This new study authored by Gas for climate consortium.
This new study answers this question by analyzing and mapping out decarbonisation pathways for different sectors and implications for gas infrastructure. It shows how a step-wise approach, seizing investment opportunities in the coming decade, can put Europe on course towards a faster and more cost-effective decarbonisation of its energy system compared to current EU trends.
Gas is important for today's energy system. Natural gas delivers on average around 25% of total energy consumption in Europe and its use ensures a flexible and reliable supply of electricity and heat. Today, gas supply is predominantly natural gas, but rapid developments in the field of biomethane and hydrogen production are bringing renewable and low carbon gas closer to large-scale application. 
Using around 2,900 TWh of green hydrogen and renewable methane through existing gas infrastructure across the EU saves society over €200 billion annually by 2050 compared to an energy system using a minimal amount of gas.

Gas for climate
Building up European hydrogen and biomethane value chains as described in these pathways has major economic and industrial benefits and creates large numbers of new sustainable jobs in globally relevant sectors.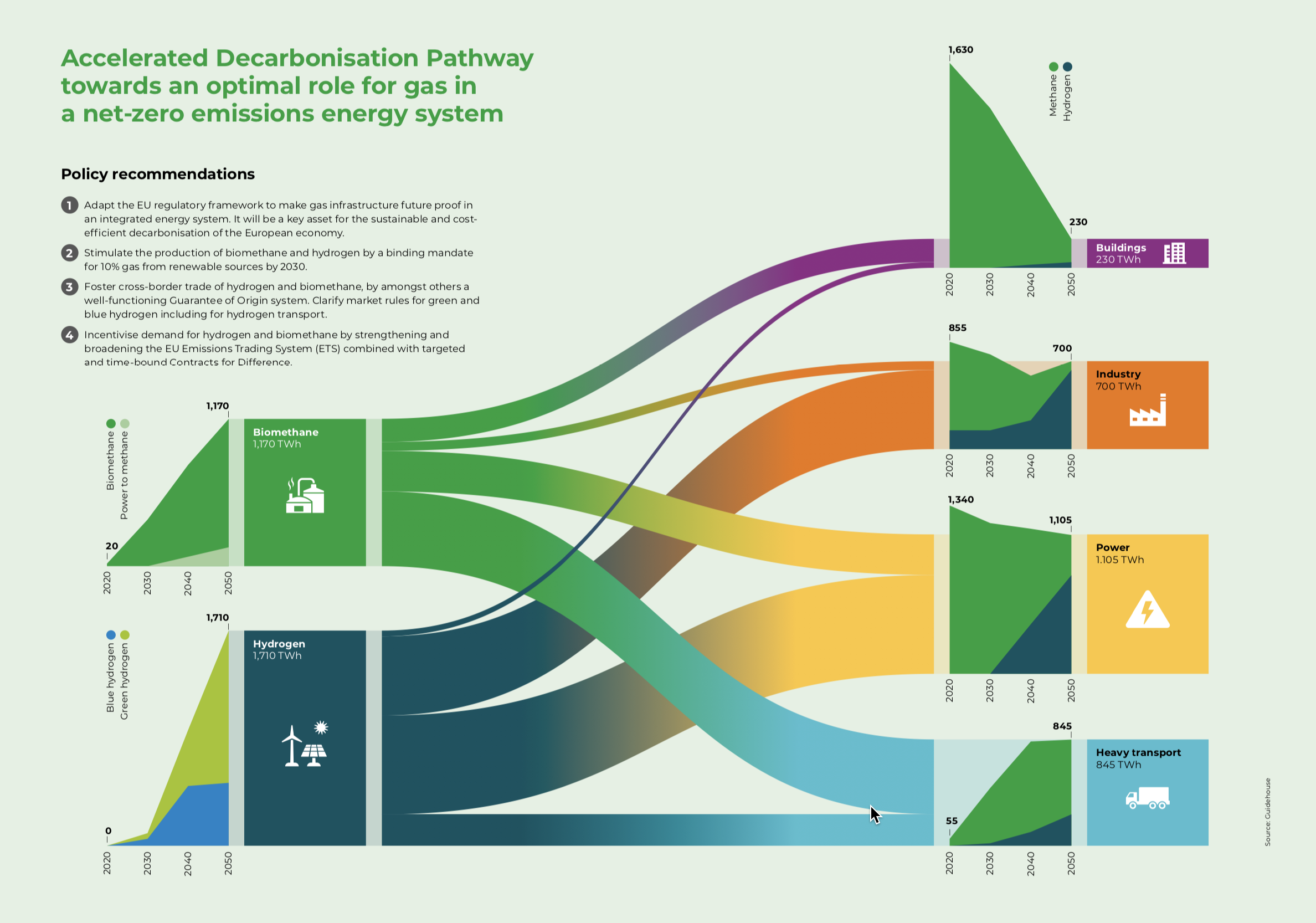 Gas for Climate would like policymakers to acknowledge that electricity and gas are not in competition with each other but are both needed and can reinforce each other. The Gas for Climate consortium is fully convinced that coupling the sectors electricity, gas, and heat – by linking their markets and their respective infrastructures in a better coordinated and integrated way – provides the greatest overall benefits for the European energy system.
Renewable and low carbon gas can play an important role to meet the Paris Agreement target.

Gas for climate
The consortium therefore endorses the reports recommended cross-sectoral policy measures for inclusion in the European Green Deal:
Adapt the EU regulatory framework to make gas infrastructure future proof in an integrated energy system. It will be a key asset for the sustainable and cost-efficient decarbonisation of the European economy.
Stimulate the production of biomethane and hydrogen by a binding mandate for 10% gas from renewable sources by 2030.
Foster cross-border trade of hydrogen and biomethane, by amongst others a well- functioning Guarantee of Origin system. Clarify market rules for green and blue hydrogen including for hydrogen transport.
Incentivisedemandforhydrogenandbiomethanebystrengtheningandbroadening the EU Emissions Trading System (ETS) combined with targeted and time-bound Contracts for Difference.
---
Download the document: "Gas Decarbonisation Pathways 2020–2050".
More information on the website: Gas for climate.