The Lazy Person's Guide to Saving the World. Sofa superstar level
Saving the planet is a global mission for humanity that  requires the personal responsibility of each of us. The UN recommends to start with a few of the many things you can do to make an impact!
Every human on earth—even the most indifferent, laziest person among us — is part of the solution.

UABIO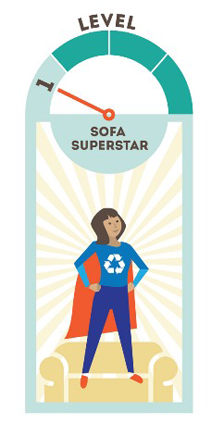 Level 1
Things you can do from your couch.
Offset your remaining carbon emissions! You can calculate your carbon footprint and compensate for it, for example, by planting a tree or by participating in an environmental initiative.
Stay informed. Follow your local news, stay in touch with the Global Goals online, and read more useful information. 
Save electricity by plugging appliances into a power strip and turning them off completely when not in use.
Turn off the lights. Your TV or computer screen provides a cozy glow, so turn off other lights if you don't need them.
Speak up! Ask your local and national authorities to engage in initiatives that don't harm people or the planet. 
Find out and buy products only from environmentally responsible companies.
Share, don't just like. If you see an interesting social media post about climate change, share it so folks in your network see it too.
Tell us about your actions to achieve global goals by using the hashtag #globalgoals on social networks.
Report online bullies. If you notice harassment on a message board or in a chat room, a flag that person. Your position may not be shared, but no one has the right to humiliate you.
Discard paper receipts. Pay bills online.
---
For more information about the Sustainable Development Goals visit the UN website.