Bioenergy can make a significant positive contribution to restoring soil fertility
Andrew Voysey, Head of Business and Government Solutions at Soil Capital (Belgium), shared his views how healthy soil can be a driver of profitability in the agribusiness sector, including in Ukraine.
Andrew Voysey's presentation "Soil health: driver of profitability in the agribusiness sector".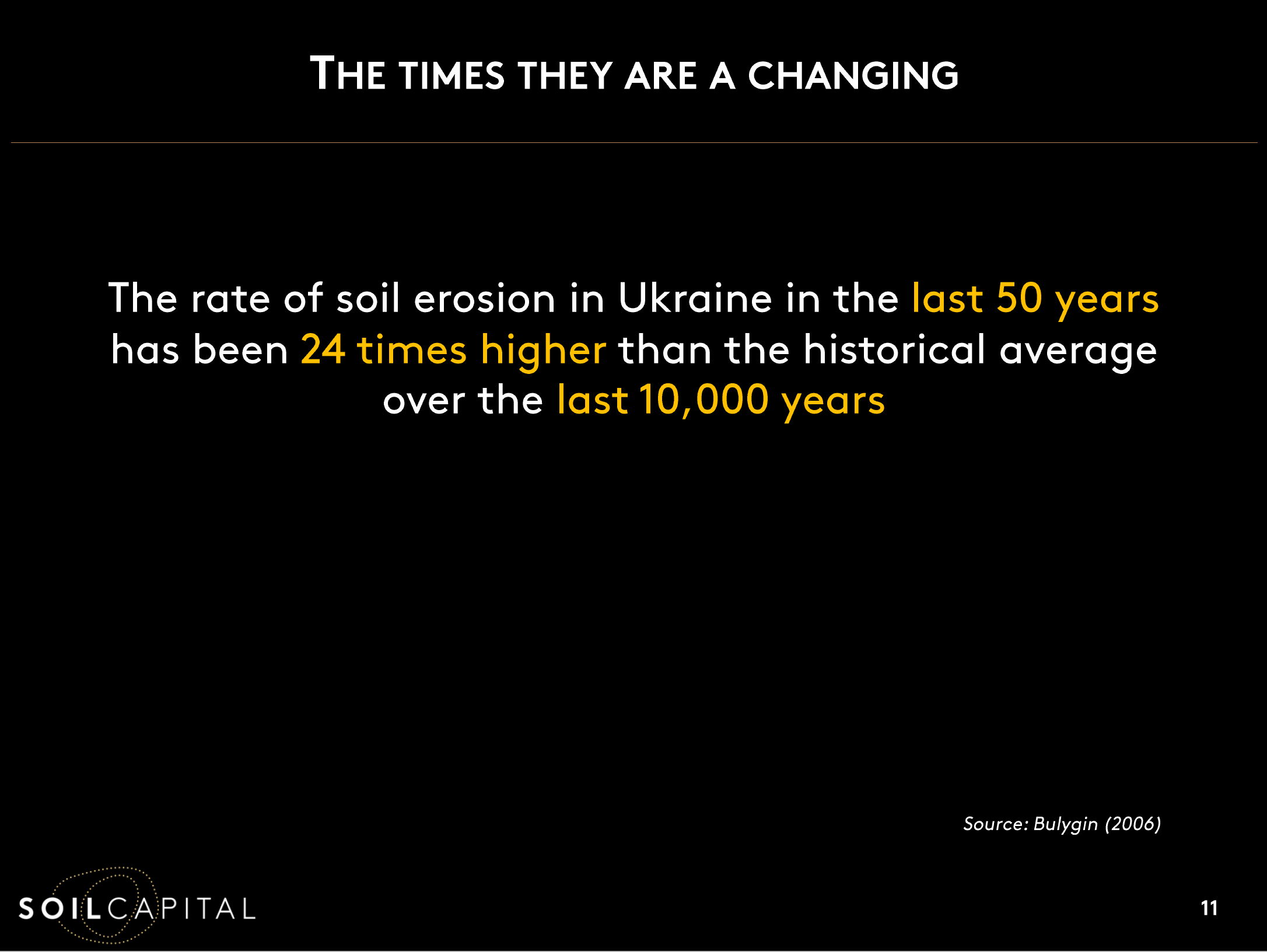 What is the problem with soil in Ukraine?
The rate of soil erosion in Ukraine in the last 50 years has been 24 times higher than the historical average over the last 10,000 years.
Soil erosion is usually caused by intensive, volatile agriculture, climate change, wind and water. Erosion takes the most valuable part of the soil – highest levels of functional soil biology are in the top 10 cm.
Depending on the region, the yearly soil loss is between 3 and 30 T/Ha.
The deterioration of the soil leads to an unstable crop yields that directly affects incomes.
What is the solution?
Application of methods of regenerative agriculture.
Bioenergy can also make a significant positive contribution to restoring soil fertility, in particular through the usage of fermented sludge in biogas plants as fertilizer; due to the planting of energy plantations, as well as the restoration of field-protected forest strips with energy crops.
What are the preferences of regenerative farming practices?
With increased biological life in the soil – from earthworms to bacteria and fungi – soil can absorb and retain more water (providing resilience against drought), it can withstand more erosion and it can make elements vital for plant growth available from the soil for free.
By the way, energy crops such as willow and poplar can not only reduce soil erosion and improve its fertility, but also reduce the level of heavy metals, retain chemical compounds, reduce its ingress into groundwater and stop the process of eutrophication (flowering of water). These plants also create a good ecosystem for animals, such as birds, worms and hares.
Analytics from The European Biomass Association.
What next?
Markets are now starting to respond. Leading buyers and investors have taken action to preference regenerative farming and their peers are now following. Governments are also acting.
In Ukraine, more than 170 farmers, farming around 170,000 hectares, have participated in the Farmer Field School – an FAO training programme focusing on applying Conversation Agriculture principles to black soil and improving profitability.
There is no doubt that Ukraine's fabulous Chernozem soils have been a blessing for its farmers. But the question is – will this lead to complacency such that, by the time the economic consequences of agricultural practices that destroy that soil become impossible to ignore, the cost of changing direction will be too great?
Why don't we start now?