UABIO proposals to improve the Law № 1959-VIII on stimulating the production of thermal energy from ADE. Letter 500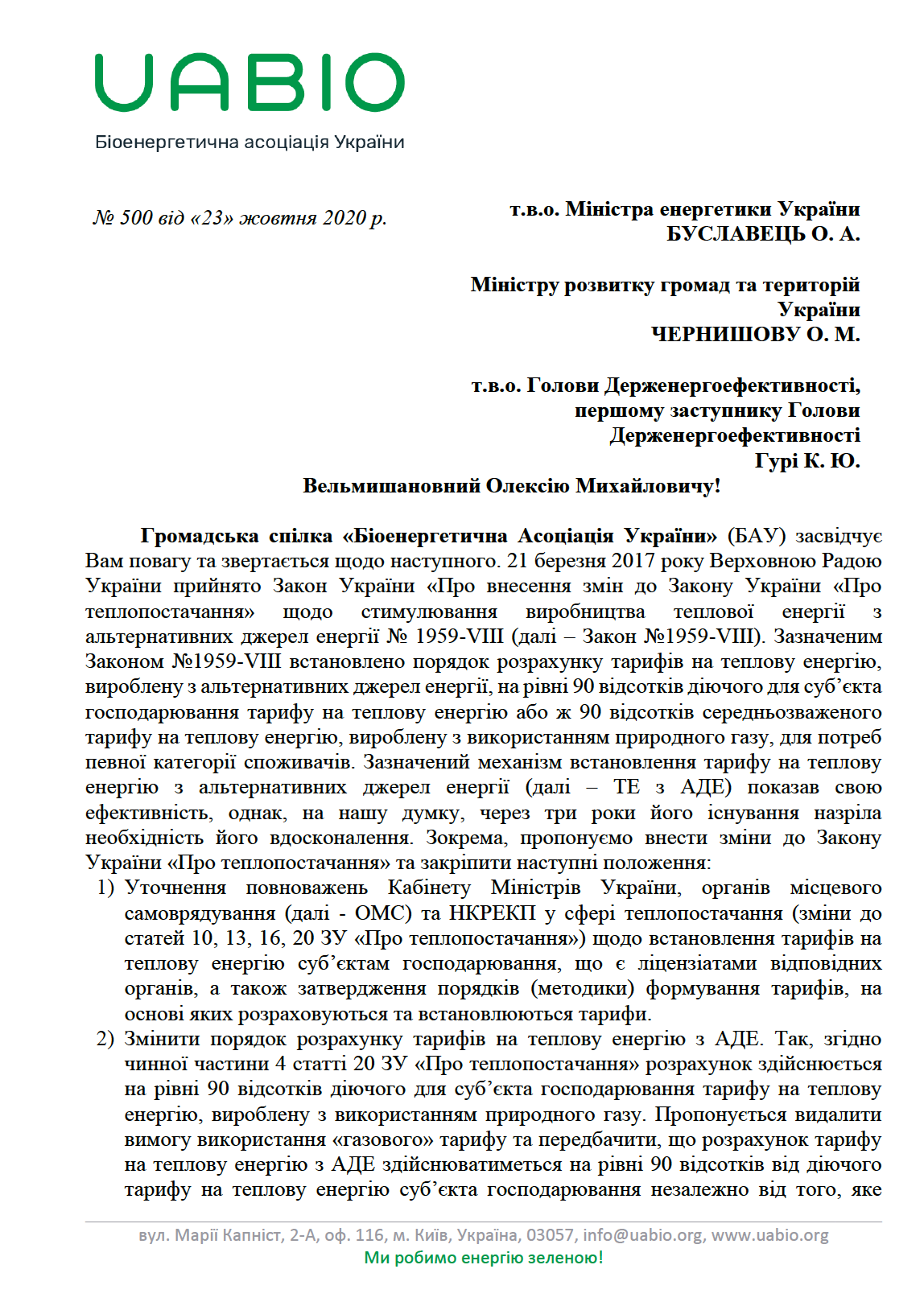 The Law "On Amendments to the Law of Ukraine "On Heat Supply" on Stimulating the Production of Heat Energy to Alternative Energy Sources" № 1959-VIII establishes the procedure for calculating tariffs for heat energy produced from alternative energy sources: at 90% of the current economic entity tariff for thermal energy or 90 % of the weighted average tariff for thermal energy produced by using natural gas (for the needs of a certain category of consumers). In general, this is an effective mechanism, but today it needs to be updated!
UABIO proposals
To clarify the powers of the Cabinet of Ministers, local authorities, and the National Energy and Utilities Regulatory Commission of Ukraine (NERC) in the field of heat supply, as well as the procedure for forming the tariffs;
To change the procedure for calculating heat tariffs from alternative energy sources — the calculation of the heat tariff with ADE have to be carried out at the level of 90% of the current entity's tariff for heat energy, regardless of which fuel is used;
To settle the case when the producer of thermal energy from alternative energy sources sells it to domestic hot water (DHW) system;
To extend the procedure for setting the tariff for thermal energy from alternative energy sources to the category of "other consumers";
To provide heat energy producers from alternative energy sources with the opportunity to choose the procedure for forming tariffs for thermal energy with ADE — according to the "0.9 principle" or according to the procedure for forming heat energy tariffs approved by the Cabinet of Ministers or the NERC, if calculations according to the "0.9 principle" for thermal energy does not correspond to the level of economically justified costs.
---
Proposals are sent to the Minister of Energy of Ukraine Olha Buslavets, the Minister for Communities and Territories Development of Ukraine Oleksiy Chernyshov, acting Head of the State Agency for Energy Efficiency of Ukraine Kostiantyn Gura.
---
The position of the UABIO is prepared, discussed, and agreed upon by the members of the UABIO, which produce more than 50% of all energy from biomass and biogas in Ukraine.