UABIO proposals regarding the creation of specialized auctions for the purchase of raw materials for companies producing electricity and heat from biomass. Letter 548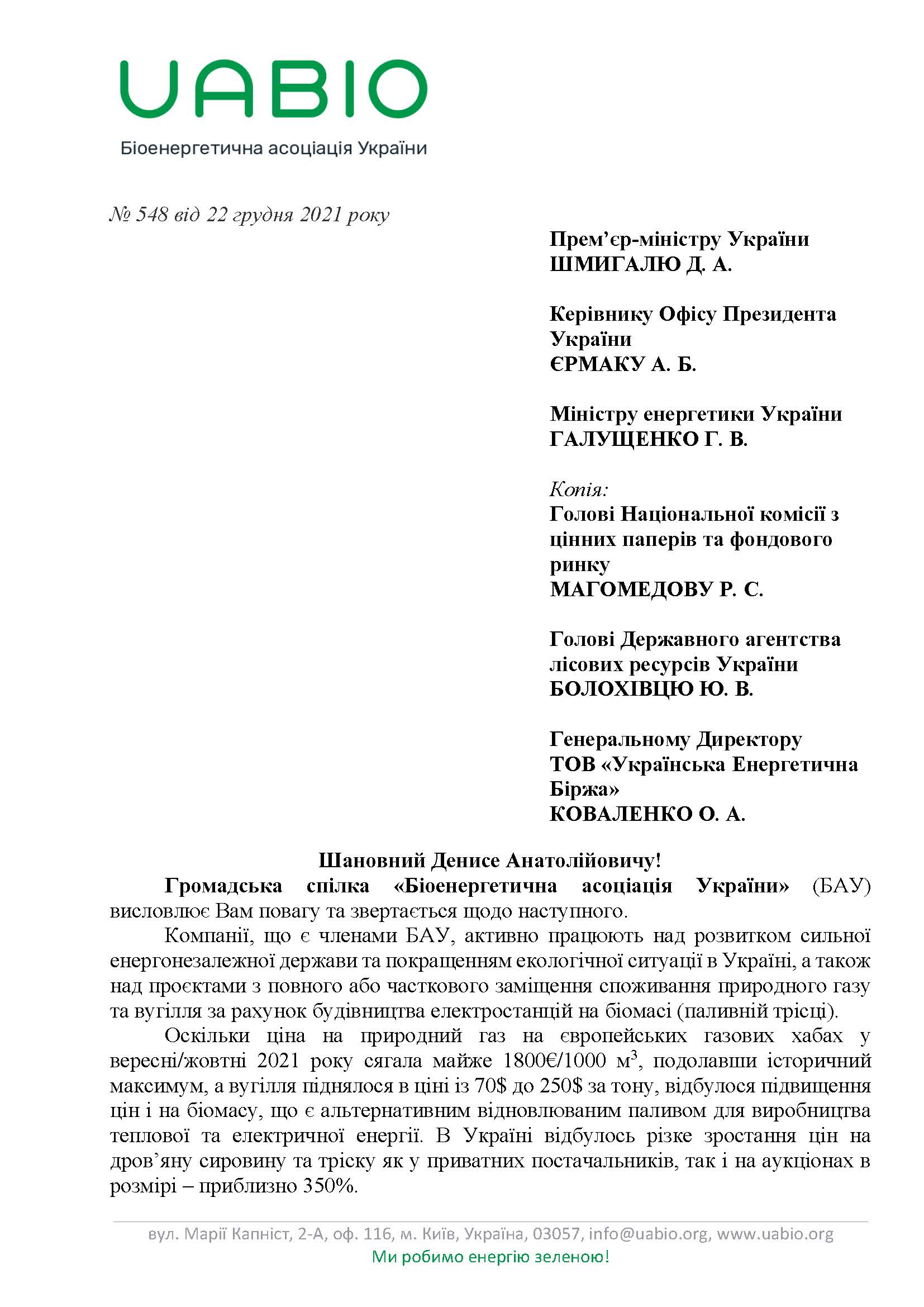 Biomass generation is a source of uninterrupted and cheap heat supply for many local communities, especially during heating periods. Biomass thermal power plants operate on an equal round-the-clock load schedule throughout the year. It is predictable energy and can be used as balancing capacities.
The main negative factors affecting the stability of biomass power plants are:
sharp rise in prices for raw materials and wood chips from both private suppliers and auctions (approximately 350%). The reason for this is the record rise in prices for natural gas and coal.
incomplete payment of the State Enterprise "Guaranteed Buyer" to producers of electricity from biomass for electricity that was sold (on average about 75% in 2021). The lack of funds for projects producing electricity from biomass is critical because only the fuel / raw material component of these projects is more than 60%.
That is why the Bioenergy Association of Ukraine addressed an official letter to the Prime Minister of Ukraine Denys Shmygal, Head of the Office of the President of Ukraine Andrii Yermak, Minister of Energy of Ukraine Herman Galushchenko to consider the possibility of creating specialized auctions for the purchase of raw materials for producers of electricity and heat from biomass.
If this decision is made, energy-generating companies will be able to ensure a stable supply of raw materials to their facilities under conditions of fair competition and at a cost-effective price.
---
The position of the UABIO is prepared, discussed, and agreed upon by the members of the UABIO, which produce more than 50% of all energy from biomass and biogas in Ukraine.