Europe will be able to achieve zero emissions only with bioenergy — analysts
It will be recalled that the era of bold climate ambition has finally arrived with more than 100 countries pledged to reach net-zero emissions in the next 30 years. And bioenergy remains a key solution to a sustainable energy transition.
It's clear that because bioenergy covers such a significant share today, we are going to need it in the system, otherwise, we will not make it to climate neutrality.

Ditte Juul-Jørgensen, director of the European Commission's energy department
Moreover, all major forecast models indicate the need to increase the share of bioenergy to achieve zero emissions.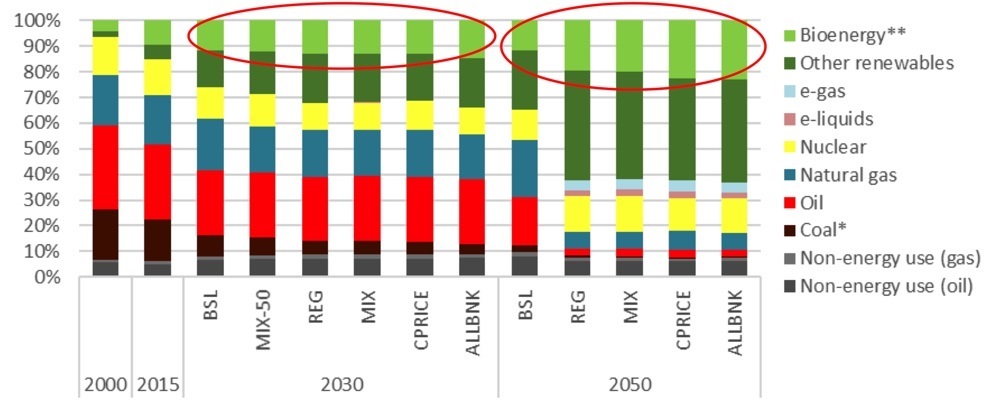 Researches and analytics
Scenarios for achieving the EU's 2030 and 2050 emissions targets shows the need for more bioenergy, projecting its use to increase within this decade and to double by 2050.
Similarly, a special report from the Intergovernmental Panel on Climate Change in 2018 found biomass to be essential in three out of four climate mitigation scenarios, with increases of primary energy from biomass ranging from 49 percent to 418 percent by 2050.
Finally, a 2020 McKinsey study exploring the optimum pathway to reduce EU emissions 55 percent by 2030 found that increasing the use of biomass will be "critical" to reaching net zero, particularly in hard-to-abate sectors.
Some facts about bioenergy
Bioenergy is the EU's largest source of renewable energy, accounting for almost 60 percent of total consumption. This is the best way to replace coal because bioenergy capacities are able to balance the energy system.
It is also one of the only scalable and readily-available alternatives to fossil fuels for combined heat and power plants and plays an important role in supplying commercial as well as domestic heat for over 50 million European households. 
Sustainable biomass is increasingly sought as a renewable feedstock in the industrial sector to replace fossil-based chemicals and plastics.
Furthermore, bioenergy combined with carbon capture and storage (BECCS) is now a proven technology that can deliver negative emissions and is in the process of being scaled up. Projects are already underway in the U.S., Sweden, Denmark, and the U.K.
It is a necessary climatic solution if it is sustainable and efficient.
What is important? — Clear sustainability criteria for the sector.
What prevents? — As in Ukraine, in Europe the issue of biomass usage is extremely politicized.
However
NO, this story is not about deforestation.
NO, this story is not about soil destruction.
ON THE CONTRARY, we are talking about the restoration of strategic natural resources.
---
Source: The article "Why Europe needs bioenergy to reach net zero", Politico: https://politi.co/3wNoyQ5.