Biomethane is the most cost effective, scalable and sustainable renewable gas available today.  On December 7, leading European companies and organizations presented the Biomethane Declaration to Kadri Simson, European Commissioner for Energy, in a lively online event. Representatives of UABIO took part in the presentation.
Biomethane has a long-term role to play in the future climate-neutral energy system, to meet the "Fit For 55" reduction of GHG emissions target (55% by 2030). Furthermore, biomethane contributes to:
sustainable agriculture,
rural jobs creation,
recovery of waste streams.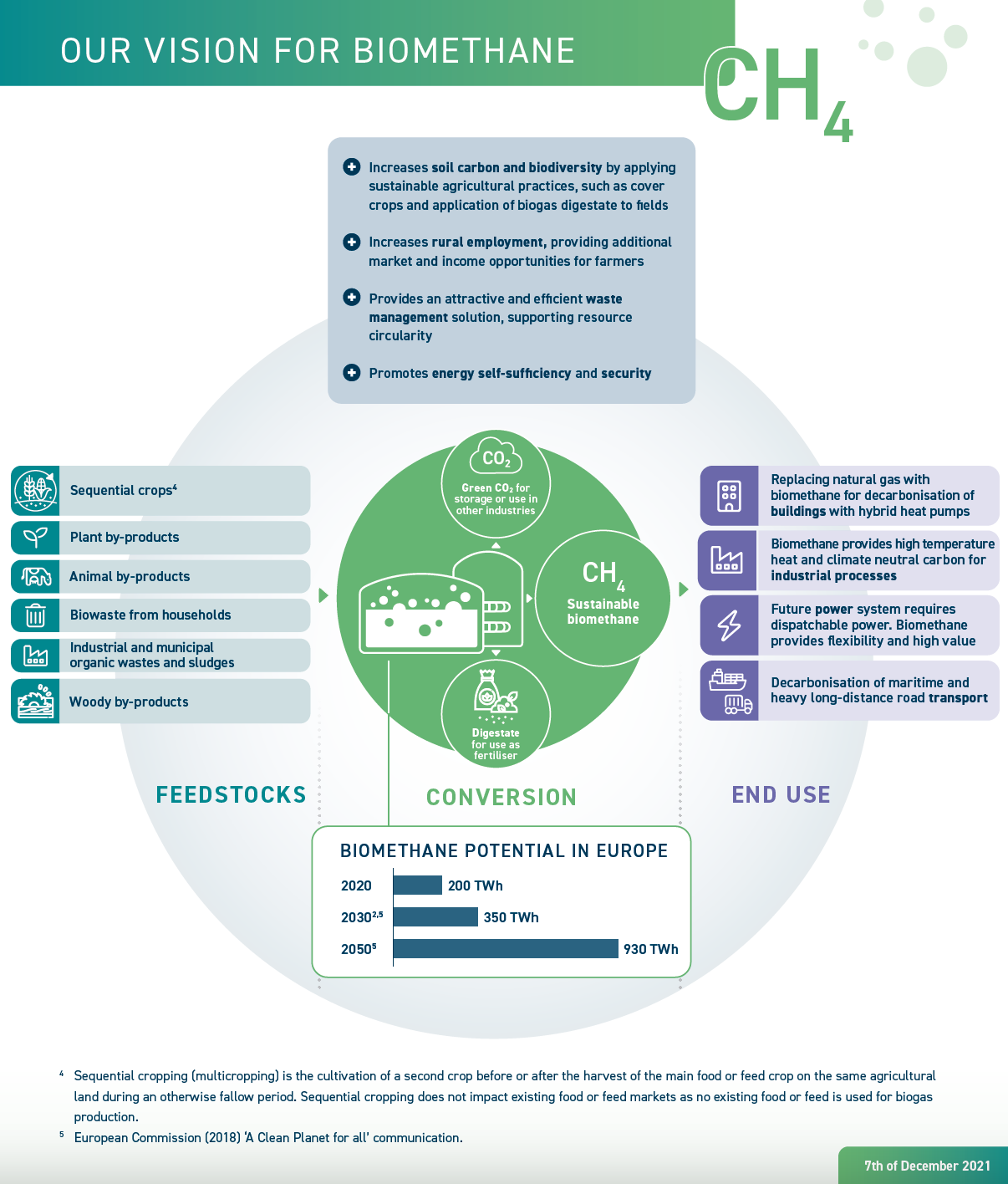 Biomethane therefore should be scaled up rapidly across the EU. This requires increased investments, policy support, cost reductions and optimising overall revenues for producers.
Biomethane finds use across the economy and has a particularly high energy system value in:
industry (for high-temperature heat that cannot be electrified, or for biogenic carbon feedstock);
transport (for long-distance heavy transport and maritime that cannot easily be electrified);
power (to balance the grid with storable and dispatchable energy);
buildings (in existing buildings with gas connections through hybrid heat pumps).
28 undersigned companies and associations seek to mobilize the biomethane supply chain
to highlight the benefits and opportunities related to biomethane and to partner with public stakeholders to ensure support for a large, Europe-wide scale-up and use of sustainable biomethane. 

«We collectively have the ambition to scale up biomethane application in Europe. We believe that 350 TWh2, or 33 billion cubic meters, by 2030 is achievable, avoiding about 110 Mt CO2eq emissions… We wish to partner with European and national institutions to optimize the role of biomethane in achieving climate targets and to remove regulatory barriers. We look forward to cooperating with all interested stakeholders to boost biomethane in Europe», — the statement said.
European Commissioner for Energy, Kadri Simson, stressed, that biomethane will be important to achieve climate neutrality, including for heating homes and for transport. Biomethane also boosts energy security according to the Commissioner.
---
Source: The Biomethane Declaration and press release of the presentation are available at the link: https://bit.ly/3DDIlFl.