Energy crops, suitable for dissemination in Ukraine — updated register of varieties is already on SAF platform!
The current material regarding updates to the State Register of plant varieties suitable for dissemination in Ukraine, which were published in June 2023.
Today, the State Register of plant varieties suitable for dissemination in Ukraine includes:
375 species of botanical taxons;
13,790 plant varieties.
Varieties of energy crops included in the Register
To date, the Register contains 36 varieties of energy plants, including several types of willow, giant miscanthus, paulownia, and milling rod-shaped (Panicum virgatum L.) . 
The varieties are owned by 20 individuals and legal entities, including research institutes of the The National Academy of Agrarian Sciences of Ukraine. A total of 8 varieties of energy crops are of foreign origin, in particular willow (Sweden – variety Wilhelm and Linnaea), miscanthus giant (Poland – variety Illinois) and paulownia (Spain – variety Kotevisa, Turbo Pro).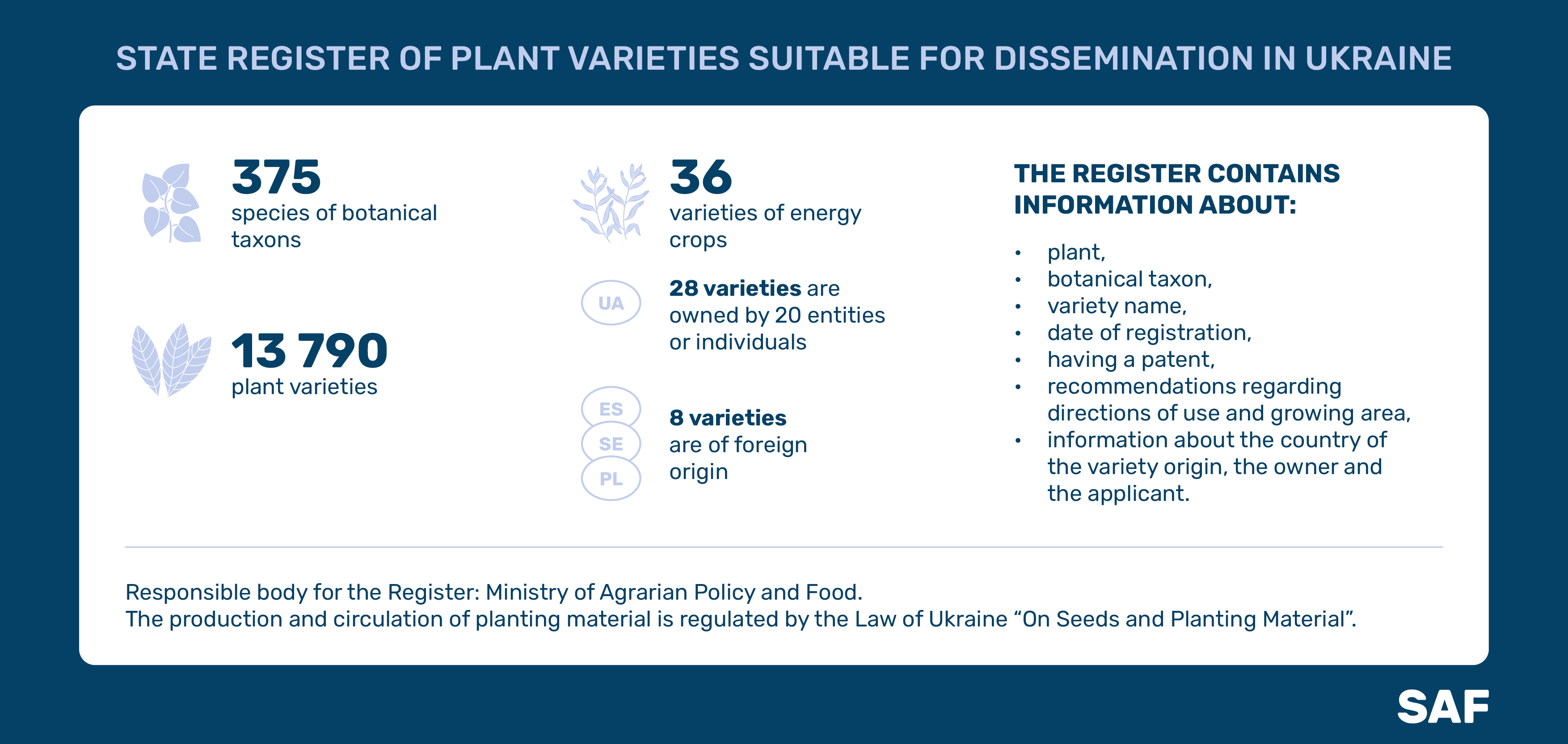 During 2022 and 2023, two varieties of paulownia (Energy, Lidea) and one variety of giant miscanthus (Illinois) were included into the Register.
Registered varieties of plants are usually suitable for cultivation in all climatic/agricultural zones of Ukraine (Polyssia, Forest Steppe, Steppe). The efficiency of cultivation mostly depends on the quality of the plant variety, soil, sufficient moisture, frost resistance, drought resistance, resistance to pests and diseases.
The interactive table with the list of registered energy crops in Ukraine is available by the following link.
Read more in the full article on the SAF platform about:
related legislation concerning the production and circulation of planting material, rights of intellectual property on plant varieties);
definition of the term "energy crops";
EU experience in growing energy crops and the situation in Ukraine.
We thank Yevhen Oliinyk, an expert of the Bioenergy Association of Ukraine, for this analytical material.
---
We remind you that UABIO is a partner of the Sustainable agribusiness platform (SAF).
SAF is a communication platform that brings together agribusiness stakeholders and aims to establish strong links between market players and introduce sustainable approaches in agriculture.
For this platform, our team prepares verified professional content on the bioenergy sector.