EU plans – to increase biomethane production to 300-370 TWh in 2030
It is planned to increase biomethane production through further development and introduction of gasification and anaerobic fermentation technologies, new raw material processing technologies, increase of capacity and number of installations, and further reduction of production costs.
The sector is growing
The EU biogas sector produced about 170 TWh / year in 2018 (16 billion m³ in natural gas equivalent). At the same time, biomethane production is growing rapidly. In 2018, it amounted to about 23 TWh (~ 2 billion m³ in natural gas equivalent) – an increase of about 15% / year in biomethane production and 17% / year in the number of biomethane plants.
At the same time, there is a transition from biogas production to biomethane production. The average capacity of biomethane plants is constantly growing (by about 4% between 2017 and 2018). 
This and many other materials of our experts are available on the SAF platform.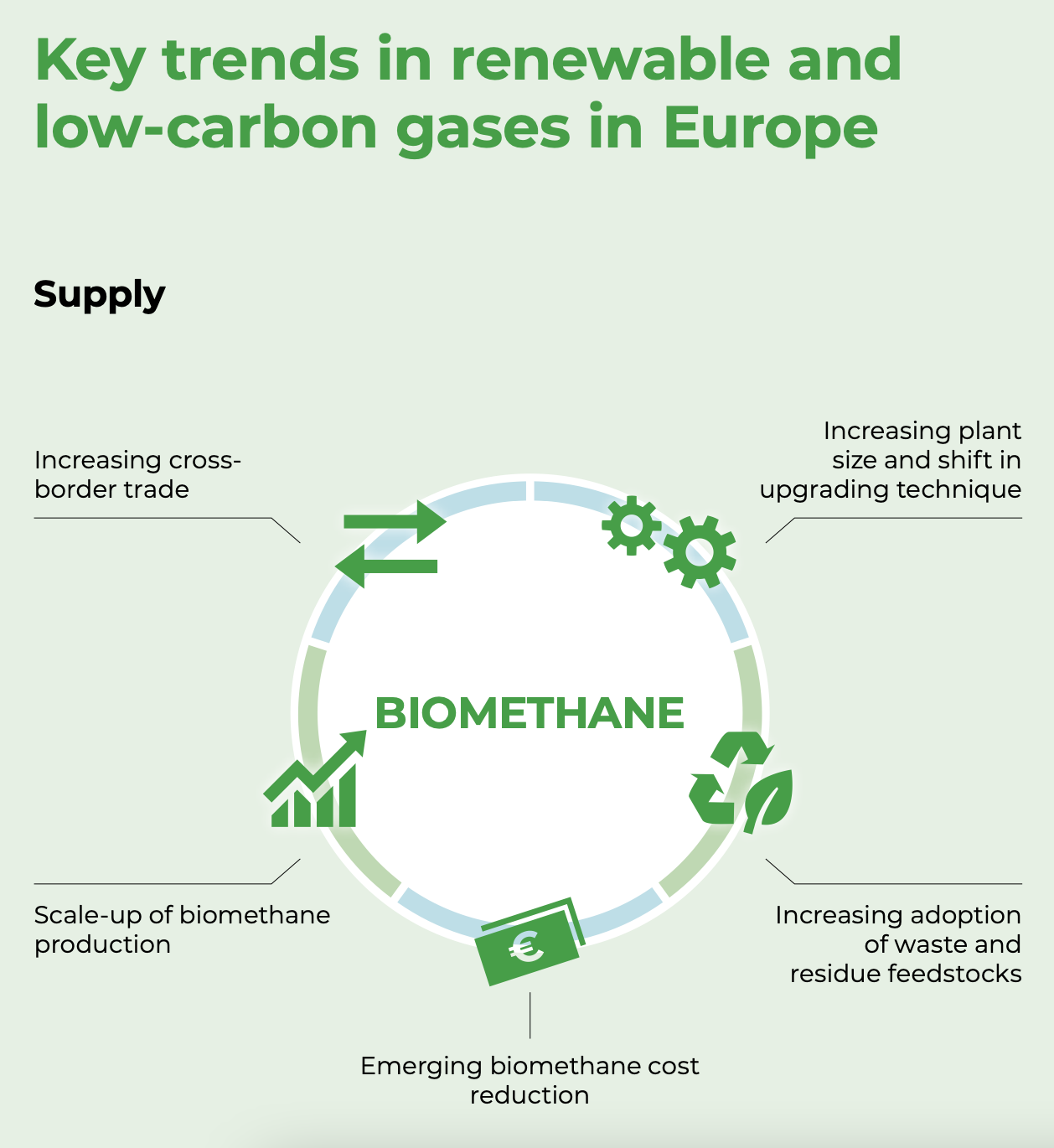 Technologies
Almost all biomethane in the EU is produced by using anaerobic digestion technology. Membrane cleaning technology is increasingly used – now it is the most common technology with a market share of about 34% (in 2019).
Other biomethane production methods, such as thermal and hydrothermal gasification, have high potential but are still in the early commercial stage and in the industrial demonstration stage, respectively.
Raw materials
It is worth noting that energy crops as raw materials for biomethane production in the EU are gradually being replaced by waste and residues at new plants. Waste and residues were used as raw materials for almost 65% of biomethane produced in the EU in 2019, compared to about 40% in 2012. Consider the main trends in the biomethane sector.
The main trends in the biomethane sector in EU
A new trend of decreasing the cost of biomethane. For anaerobic digestion biomethane, it ranges between 50 euros / MWh to 90 euros / MWh (~ 0.5 euros / m³ – 0.9 euros / m³) and mainly depends on the feedstock and plant capacity. The cost of biomethane is gradually decreasing for higher-capacity anaerobic digestion plants with certain types of raw materials. The costs for the production of thermal gasification are estimated at approximately 90-100 euros / MWh (~ 1.0 € / m2).
Tendency to cross-border trade in biomethane certificates. Such trade accounts for less than 10% of total biomethane production, but this share is gradually increasing. Denmark, Sweden and Germany are key players. The European Register of Renewable Gases (ERGaR) has been established and a single guarantee of origin (GoO) scheme for biomethane is being developed.
Source: the article on the SAF platform "The main trends in the development of biomethane in the EU: https://saf.org.ua/en/news/1414/.
---
It will be recalled that UABIO is a partner of the SAF Ukraine (Sustainable Agribusiness Forum) that was created in 2017 on the initiative and support of the European Bank for Reconstruction and Development (EBRD).