Virtual Ukrainian-Danish Site Visit Event to Agrobiomass Heating Facilities: materials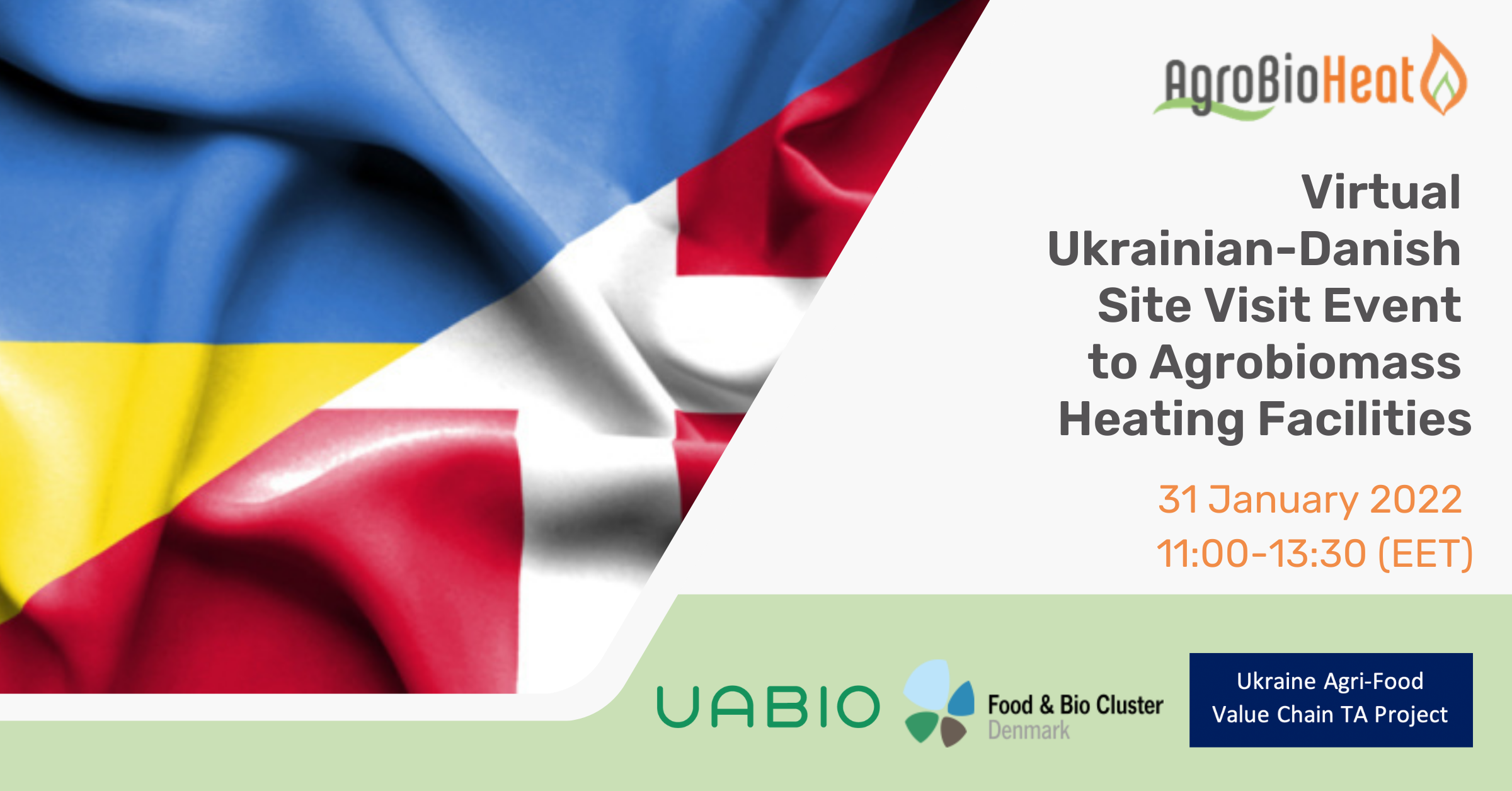 On January 31, an online seminar was held within the Agrobioheat project in the format of a virtual tour of bioenergy facilities. More than 150 participants within the platform and about 400 viewers online joined the event. The event attracted both Ukrainian and international experts and was bilingual.
The Bioenergy Association of Ukraine within the AgroBioHeat project together with the project "Ukraine Agri-Food Value Chain TA Project (UAFATA)" were the organizers of the virtual site. So, the Virtual Ukrainian-Danish Site Visit Event to Agrobiomass Heating Facilities has become a new but effective format for events. At the end we had a rich and meaningful discussion, for which we thank all the speakers and participants.
Recall, that the purpose of the virtual Ukrainian-Danish Site Visit to Agrobiomass Heat Production was to acquaint Ukrainian stakeholders with the successful experience of straw energy production in Denmark and to demonstrate modern technologies and equipment for agrobiomass energy conversion.
Danish experts and leading domestic manufacturers of boiler equipment shared their best practices and practical experience in implementing projects for the production of thermal energy from agrobiomass with the Ukrainian audience for the sustainable implementation of modern bioenergy systems and the reduction of greenhouse gas emissions.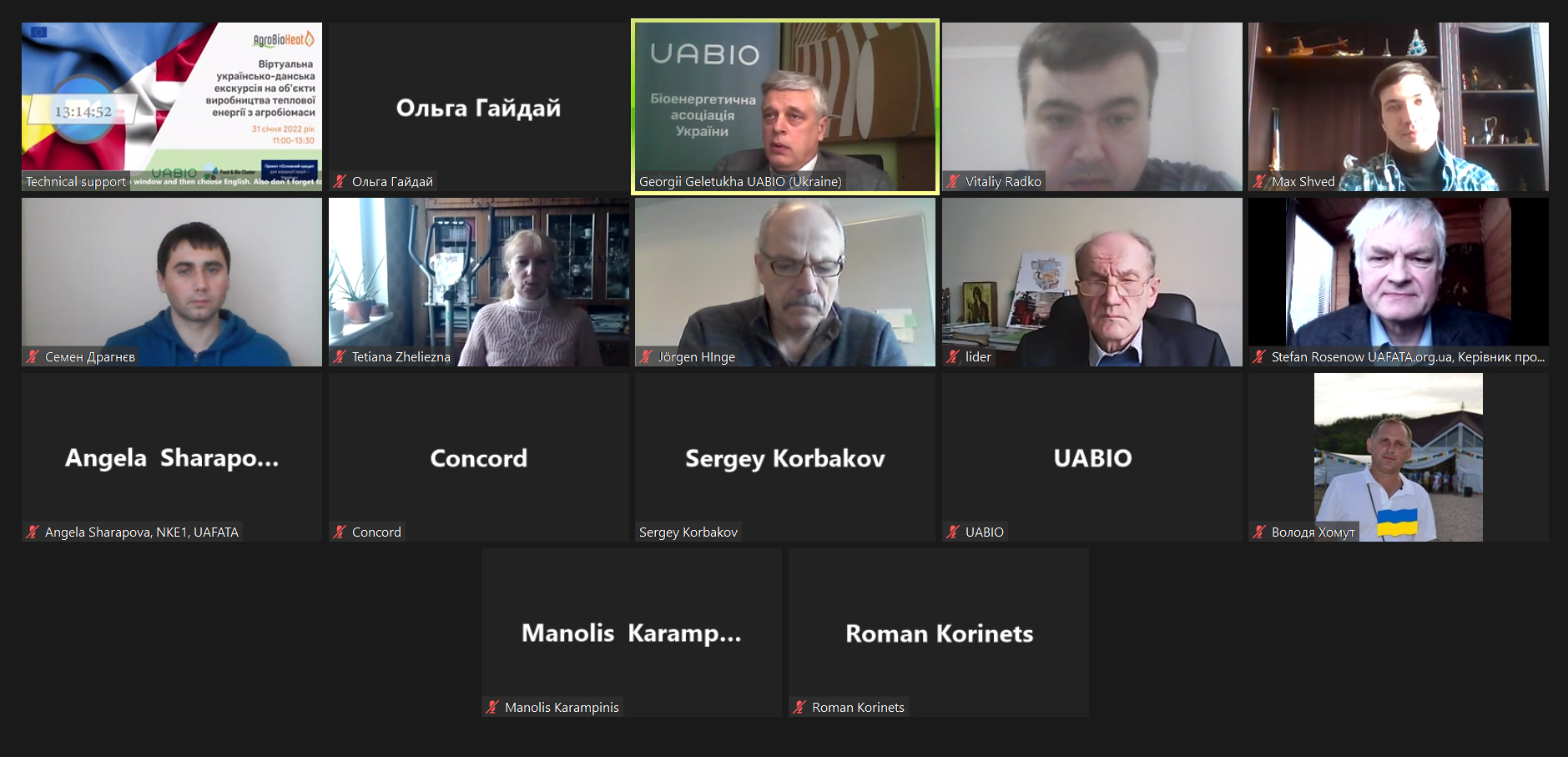 During the event we discussed the state and prospects of energy use of agrobiomass in Ukraine; energy use of straw in Denmark from the farmers' point of view; use of straw for individual and central heating – development of boiler designs; projects of the Kriger boiler plant for the energy use of sunflower husk and other types of agrobiomass; small and middle scale boilers produced by Volyn-Kalvis plant on agrobiomass, as well as credit support for Ukrainian agribusiness.
Speaker presentations (in Ukrainian):
Video of the event (with timing in Ukrainian):
---
About AgroBioHeat
Project AgroBioHeat "Promoting the penetration of agrobiomass heating solutions in European rural areas" aims to produce a mass deployment of improved and market-ready agrobiomass heating solutions in Europe. Agrobiomass is a large, underexploited, and indigenous resource, which can support the achievement of the European Energy and Climate targets while promoting rural development and circular economy.
Denmark is a world leader in the production of energy from straw through the implementation of a targeted energy policy. In addition, today Denmark is a demonstration site, where the leading manufacturers of equipment operating on agrobiomass are concentrated, as well as a large number of facilities with a variety of technological solutions and parameters.
About Ukraine Agri-Food Value Chain TA Project (UAFATA)
Technical assistance of the Ukraine Agri-Food Value Chain TA Project (UAFATA) is aimed at companies (small and medium enterprises and companies with an average capital of up to 3,000 employees) working in the target sectors (cereals, oilseeds, aquaculture/fisheries), investment planning, and preparation of loan applications for financing potential projects by the European Investment Bank. The assistance consists in preparing an application for credit resources, supporting applications from partner banks, and implementing relevant investment projects.
---

AgroBioHeat project received financing from the Horizon 2020 EU Framework Programme for Research and Innovation under Grant Agreement No 818369