Avedøre CHP in Denmark — Unit 2
We remind you that we recently published an article about Avedøre 1 CHP. Now we want to share the main facts about CHP Avedøre 2.
It has three modules:
ultra-supercritical boiler;
gas turbine installation;
biomass boiler.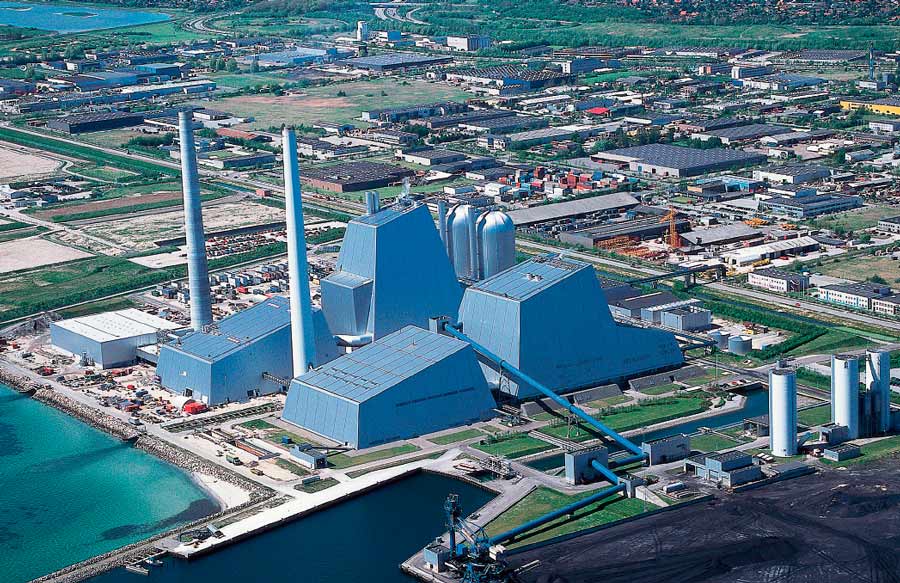 Avedøre 2 uses a multi-fuel concept. The ultra-supercritical boiler was originally designed to burn natural gas and heavy fuel oil. In 2002, the boiler was upgraded to burn 300,000 tons of wood pellets annually as additional fuel.
Capacities for different types of fuel:
Ultra-supercritical boiler: natural gas, fuel oil, wood pellets in powder.
Biomass boiler: straw.
Gas turbines: natural gas.
This world's largest straw boiler can burn 150,000 tons of straw per year (25 tons/hour), which is about 10% of Avedøre 2's fuel consumption.
How the process works
Straw is fed into the boiler by means of augers on a vibrating grid with water cooling. The bag filter system removes more than 99% of solid particles from the flue gases coming out of the boiler. About 50 trucks with straw a day are transported to the power plant from farms located in eastern Denmark. Straw ash is returned to the fields as fertilizer.
To keep the wood pellets dry and minimize dust, all operations are performed indoors. The existing coal conveyors are covered and dust is removed from strategic places with a vacuum cleaning system.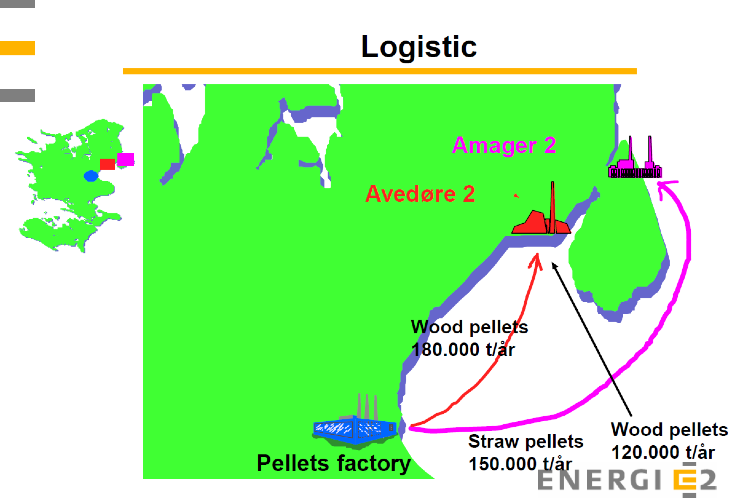 Power at full load (net)
435 MW of electricity without gas turbines / 585 MW of electricity with gas turbines. Or: Heat 365 MW of electricity and 475 MW of thermal energy without gas turbines / 505 MW of electricity and 565 MW of thermal energy with gas turbines.
Avedøre (Units 1 and 2) provides biomass-based DH to approximately 215,000 households and electricity according to the annual consumption of more than 600,000 households. This is a significant contribution to the Danish ambitions to become CO2 neutral in 2025.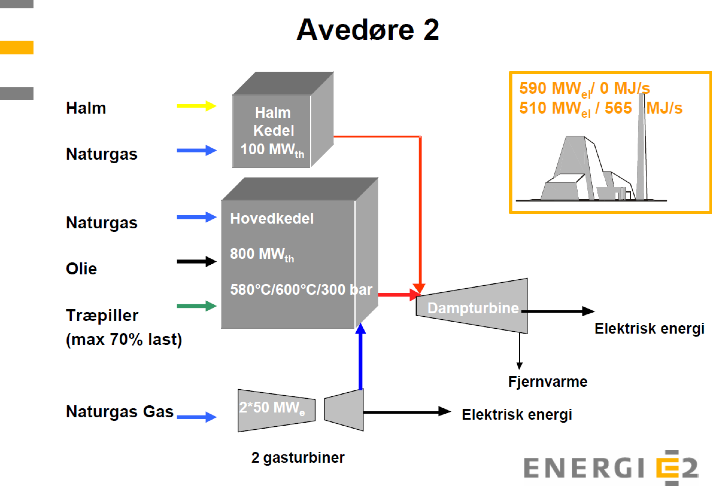 In Denmark, 30% of all energy is generated from renewable energy sources, and the country intends to increase this figure to 50% by 2030 and become a country with zero greenhouse gas emissions, independent of fossil fuels by 2050.
---
Source: International Energy Agency (IEA), Impact of Co-Combustion of Wood Pellets at Avedøre Power Plant Fired with Heavy Fuel Oil and Natural Gas