One of the largest straw-fired power plants with a capacity of 40 MWe | The United Kingdom
The electricity generated by the straw-fuelled Brigg Renewable Energy Plant (BREP), which would be enough for more than 70,000 UK households a year, is fed into the national grid offsetting up to 300,000t of carbon dioxide (CO₂) emissions annually. The plant employs 30 personnel.
The straw-fuelled plant uses more than 240,000t of wheat straw feedstock annually, which will be sourced from producers within a 50-mile radius. It will also use wood chips as auxiliary fuel. The operation of the facility began in 2016.
It is important that this plant can work exclusively on straw. We will remind you that straw is an almost inexhaustible resource in Ukraine.
Technological process
The facility comprises a turbine and boiler hall, two storage barns, and a building to store wood (if necessary, it is possible to add up to 20% of firewood).
The straw fuel for the plant is delivered on flatbed trailers and unloaded into one of the two straw barns. Each straw barn is capable of holding straw bales sufficient for 36 hours of operation.
The straw is burnt in the boiler to produce high-pressure (111 bar), high-temperature steam (539°C), which drives the steam turbine to generate electricity. The steam passing through the turbine is condensed back into water with the help of an air-cooled condenser and reused in the boiler.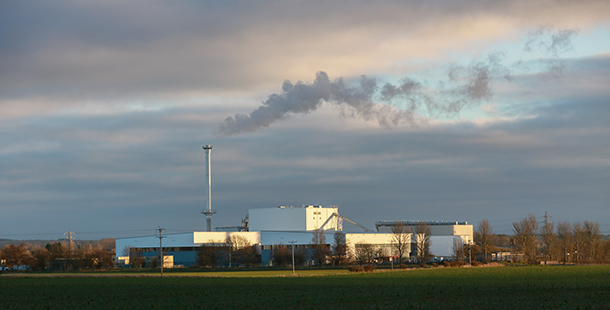 The hot combustion gases generated in the process pass through a complete cleaning system before being released through the chimney stack, while the ash produced due to the combustion of the straw will be recycled for fertiliser.
The power plant is designed for continuous operation for baseload power generation except for one annual shutdown for inspection and repair.
The plant uses combustion technology based on a water-cooled vibration grate to generate power from the straw feedstock. The vibrating grate fired boiler supplied by Burmeister & Wain Energy A/S (BWE), a leading developer of combustion systems.
Alstom company designed and supplied a 45MW geared reaction steam turbine (GRT) for the Brigg power station.
The chimney stack of the power plant is 62m high. The straw feeding system and the Selective Non Catalytic Reduction (SNCR) DeNOx system also operate here.
The plant, built near Brigg (North Lincolnshire), is a Danish joint venture between PensionDanmark and Burmeister & Wain Scandinavian Contractor A/S (BWSC).
The Brigg biopower plant was built on a 13-acre site, which was formerly a British Sugar plant.
Investments in the facility reached 162 million pounds.
---
Sourcces: BWCS; Power Technology.