Webinar "Bioenergy retrofits for Ukrainian fossil heating and power sectors – European technologies and examples"
Date: 22 September 2021
Time: 11.00-14.30
Simultaneous translation (Ukrainian / English) will be organized during the event.
To participate in the event you need to register. Register at this link: https://forms.gle/engxToTybj3MCJ2P6. All registered participants will receive a link to join the online workshop on the eve of the event.
The Bioenergy Association of Ukraine together with the BIOFIT project invite you to participate in the series webinars "Supporting bioenergy retrofitting of the energy sector of Ukraine". The first webinar will be held on 22 of September 2021.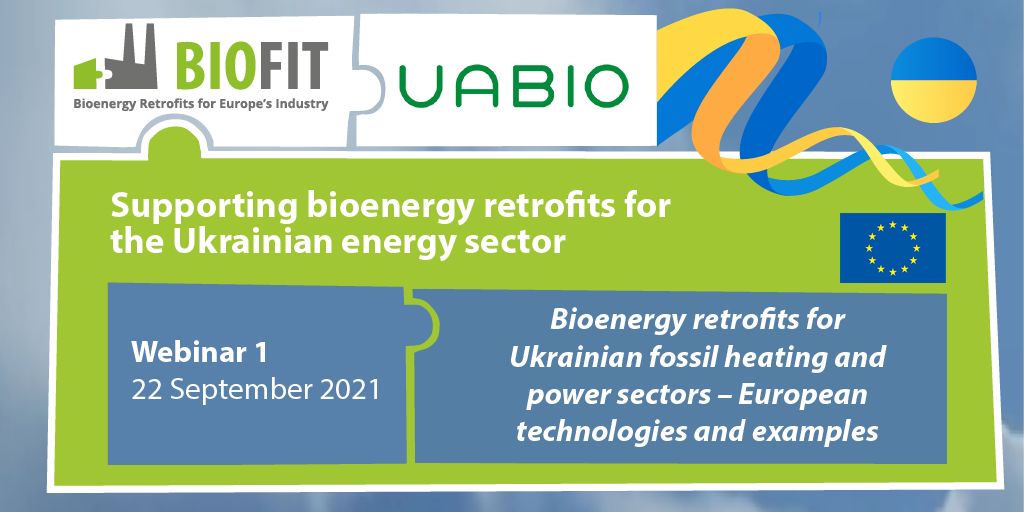 The overall aim of the BIOFIT project is to facilitate the introduction of bioenergy retrofitting in the following five industry sectors:
first-generation biofuels,
pulp and paper,
fossil refineries,
fossil firing power,
combined heat and power plants.
The main goal of the webinar is to promote cooperation and exchange between European industry and private sector players with stakeholders from research, industry, and the public sector in Ukraine.
BIOFIT project experts will share their experience and knowledge with the Ukrainian audience to support Ukraine's energy sector towards bioenergy retrofitting.
Online workshop programme
| | | | | | | | |
| --- | --- | --- | --- | --- | --- | --- | --- |
| Time (CEST) | | | | Presentation title | | Speaker(s) | |
| 11:00 | | | | Welcome & Introduction to the BIOFIT project (10' min) | | Manolis Karampinis, Research Associate, Centre for Research and Technology Hellas (CERTH) | |
| 11:10 | | | | Setting the sector scene in Ukraine (20' min) | | Georgii Geletukha, Head of Board, Bioenergy Association of Ukraine (UABIO) | |
| 11:30 | | | | Considerations for converting fossil fired steam or hot water boilers to biomass powder combustion (30' min) | | Björn Forsberg, CEO & Global Market Manager, WTS AB Powder Burners | |
| 12:00 | | | | Utilizing present equipment for sustainable fuel conversions (30' min) | | Johanna Lindén, CEO, Petro Bio AB | |
| 12:30 | | | | Coffee break (15' min) | | | |
| 12:45 | | | | Coal to biomass conversions (30' min) | | Preben Messerschmidt, Project Director, Power, Ramboll | |
| 13:15 | | | | Boiler conversions to Bubbling Fluidized Beds (BFBs) (30' min) | | Joonas Hämäläinen, Sales Manager, Rebuilds and Conversions, Valmet | |
| 13:45 | | | | Experiences with bioenergy in district heating (15' min) | | Kamila Wagieca, Director Energy & Public Affairs department, Veolia | |
| 14:00 | | | | Final Q&A / Conclusions (30' min) | | Manolis Karampinis, Research Associate, Centre for Research and Technology Hellas (CERTH) & Georgii Geletukha, Head of Board, Bioenergy Association of Ukraine (UABIO) | |
| 14:30 | | | | End of event | | | |
---
Speaker presentations
---

This project has received funding from the European Union's Horizon 2020 research and innovation programme under grant agreement No 817999